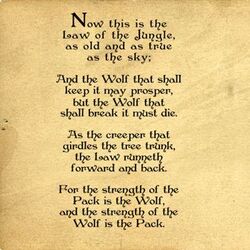 Hello! I'm Gyllbane MacNamara, and I really love The Jungle Book! The Jungle Book is one of my favourite stories ever.
I love to edit here, and help the wiki grow!
This user is a fan of Shere Khan

Find me on these wikis:
My favourite characters
Trivia
Shere Khan (2016) is my favourite character of all times
I have read and watched everything from the Jungle Book. Except for a few adaptations I started, but didn't like.
My favourite books
Guardians of Ga'Hoole series
Foxcraft series
Bravelands series
De Vloek van de Eksters (translated to english: The Curse of the Magpies)
Trail of the Caribou
Bears of The Ice series
Watership Down
Suvivors series
The Jungle Book
My favourite movies and series
Legend of The Guardians: The Owls of Ga'Hoole
The Jungle Book (2016)
The Lion King (2019)
Watership Down Netflix Mini-series
Mowgli: Legend of the Jungle
The Lion King (1994)
Stormwind 1,2,3 and 4
The Lion Guard
Jurassic World Netflix series